Let me begin today's post by stating upfront: I absolutely condemn the actions taken against George Floyd, Breonna Taylor, Ahmaud Arbey, and many more members of the African American community. These actions taken by evil men cannot go ignored. As a world, we have come face-to-face with the reality that evil, sin, still exist in our world today. Violence against any person due to their race is evil. The protests that we are seeing lately is the world's response to try and fight that evil.
I, myself, am proud of the protest in my home town that happened two days ago. Protestors took to the streets in thousands, police officers took a knee with the protestors, and once the curfew time had past, officers asked the protestors to move along. MOST did. An hour past curfew, the police officers and remaining mix of honest protestors and dishonest instigators had a couple of tense moments, but then everyone dispursed in an orderly manner. Only a couple of stores had attempted looting. This was a win for our city and for the movement!
However, as we have seen on the news, this is not the case everywhere. I did not post this yesterday because it was # blackouttuesday and I did not want to deter from the focus on the African American community on any of my social platforms. However, I want to elaborate on my stance today.
I support the protests. However, I also condemn the violent actions that have increased against police officers and innocent bystanders (of all races) in the last week alone. Police officers and store owners, who had no immediate connection to these injustices done against the African American community, are being beaten bloody, dragged through the streets, ran over with cars, and shot. A retired African American Police Captain, David Dorn, was murdered by a rioter/looter as Dorn tried to protect a store front. Dorn was shot and left to bleed out on the concrete. This is not equality.
Do all protestors act this way? Definitely not! Not even the majority! There is a huge difference between most protestors and rioters/instigators. That is why I do not blame the protestors as a whole for these actions, I condemn the rioters and the violent instigators as individuals and hope that they alone will face justice for their actions. I also hope that the nation will not judge the majority of the protestors based on the actions of violent individuals.
But in the same train of thought. Do all police officers act as Derek Chauvin do? Definitely not! Not even the majority. That is why I cannot understand when people hold up the "f*** All Police!" signs at protests. I do not blame the police department as a whole, but I DO condemn the individual officers for their actions and hope that they will face justice. I also hope that the nation will not judge the majority of police officers based on the actions of racist individuals.
There are evil police officers and there are evil rioters, both of whom who seek control and destruction. Neither are okay. However, there are also good police officers and good protestors, both of whom strive toward the same goal. It seems that all the good protestors/police members are being looked over because they do not get as many views as the bad.
As a white person, I know that I am not in a place to understand what an African American person feels on a daily basis. I do not pretend otherwise. I can only do my best to listen to the dialogue that is going on around me. My heart hurts for those who live in fear. It is not right. It should not be this way.
The biggest question on my heart is this:
Can we be allies to both African American people and good police officers?
Black lives do matter. Something needs to change where African American people can feel safe in all communities. 
Police Officers matter. The whole should not be condemned because of evil individuals. 
In our desire to gain justice and equality for the African American community, can we not also be careful to not tear down another group based on their outside perception? Just because they wear "blue" does not make them all the same. I condemn racism in all its forms. So, I will continue to condemn and protest publically against the discrimination the African American community faces. I will also condemn the violent actions taken against police officers and bystanders of all races who are being assaulted during the riots.
I stand against evil. I stand for equality.
To all the protestors out there, I pray that you stay safe. I pray that your work brings about awareness and a better world where both African Americans and police officers view each other as allies in the fight against racism.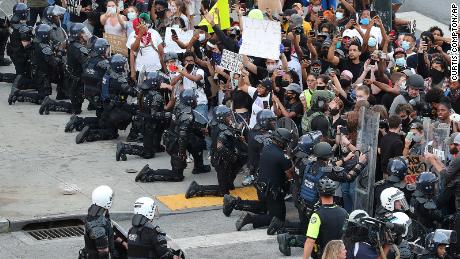 John 13:34-35, "A new commandment I give to you, that you love one another: just as I have loved you, you also are to love one another. By this all people will know that you are my disciples, if you have love for one another."