Earlier this week, we discussed the importance of managing one's time. Of course, that is easier said than done. Even the great Dr. Seuss could admit to the difficulty of time.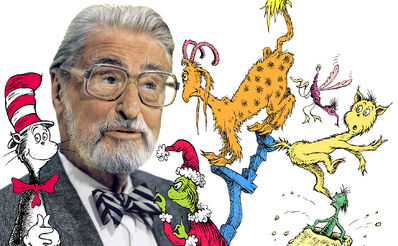 Theodor Seuss Geisel, better known as simply Dr. Seuss, sold over 600 million copies of his children's books which were translated into more than 20 languages. Who hasn't read "Cat in the Hat?" Who hasn't seen "The Grinch who Stole Christmas?" Is it possible to escape an American childhood without ever hearing the name Dr. Seuss?
However, did you know that before he published his famous children stories, Dr. Seuss created over 400 political cartoons? In fact, many of his political opinions worked themselves into his children's books. The "Butter Battle Book" published in 1984 is practically an anti-war novel that portrays the consequences of the arms race with both the Yooks and the Zooks (races in the book) poised to drop "nuclear bombs" on one another at the end of the story. What are they fighting over? How to butter their bread.
The story deals with grown-up ideas simplified into children's rhymes. Dr. Seuss was a mastermind in his own field.
What does this have to do with managing time? Not much, except to note once again that well-established authors also struggle with the same issues we do such as time.
Happy Writing Everyone!
*If you enjoyed today's Writing Tip be sure to check out additional tips under the "Writing Tips" category on my home menu!