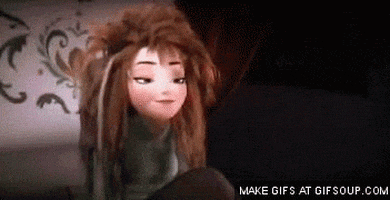 That's right, today is Graduation Day!
(Legit: I think my hair looked just like Anna's this morning when I woke up)
I'm super excited to walk across that stage in just a couple of hours!
Even though they're going to hand me an empty golden tube with my fake "diploma" in it, that golden tube represents everything that I have accomplished! It represents sleepless nights, feeling of insecurities, moments of triumphs! It reminds me of my family and my friends who have supported me through it all. I could not be more blessed. I have been in school all my life, I never took a break moving from high school directly into college, graduating and then moving forward into the Master's program. So this graduation is going to mean a bit more than the ones before. This time when I walk, I will be leaving school. While I may return to education later on in life for a Doctorate degree, momentarily I will be saying goodbye, or possibly see you later. . .
I will be moving on to a new stage in my life and I am ready to welcome this adventure with open arms!
Anywhooo . . . . . .
I wanted to share with you my graduation cap design! I thought long and hard, went back and forth between ideas but here it is!
I wrote/drew everything by hand so I'm pretty pleased with the result (especially since I messed it up twice and had to redo it 😥😅). While I debated between doing something like "Mischief Managed" or "May the Odds be Ever in Your Favor," I decided that this quote was more apt. Words truly are our most inexhaustible source of magic! – Albus Dumbledore
Oh and a HUGE THANK YOU to all my new and old followers! I was just notified that I've reached 500 followers! What an awesome Graduation Gift! Thank you!