The Hunger Games: Movie Compared to the Book
The first movie adaptation of the popular Hunger Games series premiered on March 23, 2012. Within three days the movie had hit record-breaking sales of over $155 million in North America alone and only continued to grow in popularity. While I will assume that most of you are already familiar with the book series and the movies, here is a brief set-up or reminder for those unaware.
The nation of Panem is what remains of North America after war, famine, floods, and other catastrophes. Nearly 80 years before our story begins, there was a war between two parties. The winners, known as The Capitol, punish the losers of the rebellion, the twelve districts through the spectacle the "Hunger Games". Every year, each of the twelve districts must offer up one boy and one girl tribute between the ages of 12 and 18 to enter into a televised arena and fight to the death. When this novel/movie opens up, it is the 74th Hunger Games and Katniss Everdeen volunteers as tribute to save her sister.
Now, let's dive into our movie analysis!
Awesome New Additions – movies and books are inevitably different from one another, it cannot be helped. Sometimes directors add in scenes that make no sense or divert from the book's essence. However, when it's well done, additional scenes can truly help emphasize moments that were unavailable to the reader in the book.
For instance, the novel is narrated by Katniss Everdeen which means we only see the action from her perspective. However, in the movie we are granted additional view points:
Opening Scene between Caesar Flickerman and Seneca Crane: While the book opens up with Katniss waking up in District 12, the movie begins with a conversation between Seneca and Caesar. The two are on the Capitol's favorite talk-show and they're quite obviously excited for the reaping day. This is highly contrasted when Prim's screams usher in the next scene starkly displaying the difference between those in the Capitol and those in the district.
Insights into the Capitol: Other additional scenes help to display this contrast and really give the viewers more insight into the Capitol than the books can. For instance, we see more of the Capitol citizens's inhumanity. In one scene, there is a betting board, and in another scene two parents gift their male child a sword with which he chases his sister and then stabs his mother. These scenes focus on how natural these forms of entertainment have become to the Capitol citizens, and because we see these scenes through Haymtich's eyes, we can see how despicable their ignorance truly is.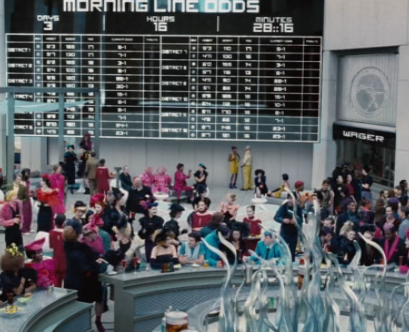 Haymitch Abernathy: Speaking of our favorite knife-wielding alcoholic . . . Although we may all come to know and love Haymitch eventually, we are given the opportunity to understand him far earlier within the movies. As soon as we arrive into the Capitol we see Haymitch's disgust at the Capitol citizens, his pain at having to watch another two tributes die, and his desire to save at least one. Props to the director for giving us more Haymitch!
Conversations between Seneca Crane and President Snow: "Why do we have a winner? . . . Hope. It is the only thing stronger than fear. . . A spark is fine . . . Contain it." Now yes, this scene was probably put in to foreshadow the future events, to play more with the image of fire, and give us earlier access to President Snow's character. However, the themes within this scene are *extremely* important in my discussion of agency and power which I discuss in chapter three of my book.
Insights into the Districts: We have a few different moments in which we see those in District 12 watching Katniss on the screen or District 11 reacting to the screen in rebellion. These scenes greatly enhance our understanding of how Katniss's actions are affecting others long before she understands it herself.
Annoying Changes: I loved the movie, but I had my own irritations.
No Madge: Seriously, how hard would it have been to add in a five second clip for devoted fans to meet Madge? Just a little cameo for our sakes??? Plus, as much as Greasy Sae liked Katniss, people in the Hob did not give things away for free. It was a fair bartering system and free, string-less gifts did not exist.
Cato and Glimmer are a thing?? : The first time I watched this, I didn't catch it (I wasn't as well-versed as I am now). Glimmer is the tribute from District 1 and while she was in the Career pack, Cato did not have a "thing" for her (although the movie portrays them very couple-y). In fact, Cato's district partner was CLOVE and while Cato shows no romantic interest early on, he begs Clove to stay with him as she dies. Somewhere inside of Cato, he cared for another human being, he cared for Clove, not Glimmer! There was already a 'love interest' for Cato, so why change it to Glimmer? This is one of those changes that makes absolutely no positive difference.
"Wolf" Muttations: I use the term wolf because that is what they were supposed to be, however in the movie, these mutts look more like some weird bear-dog hybrid. In the books, Collins clearly depicts these wolf muttations as being clear representatives of the dead tributes (their fur matched their hair color and they wore colors inlaid with this district numbers); however, in the movie that is completely overlooked. The importance of these wolf/tribute muttations is more thoroughly examined in chapter three of my book, which makes me even more sad that they ignored this opportunity in the movie. They already had to use CGI, so why not use it correctly?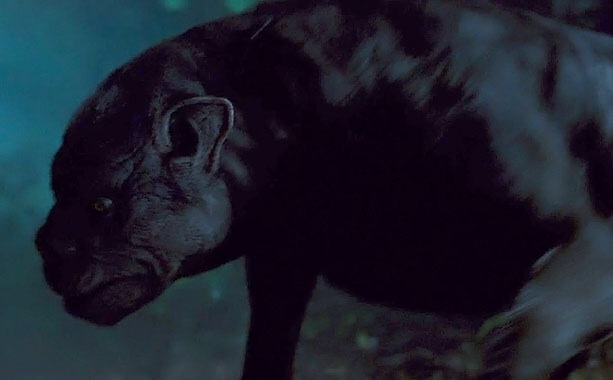 Scenes Worth Special Mention
Peeta and Ceaser "shower" scene – their banter was wonderful
Initial Bloodbath at the Cornucopia – they did it so well without having to up the rating on the movie
The house being blown apart just as the father was blown apart – representative of trauma in the home
So what did you think of the movie adaptation? Do you share my opinions? Do you disagree? Let's chat in the comments below!