If you've been blogging for over a couple of months, odds are you've had your fair share of less-than-appreciated comments left on your posts. These odd comments most likely consist of either spam or hateful messages. I have been blogging for about 10 months now and I have received both.
For three weeks straight, I received over 200 spam messages from fake accounts with the same repeat comment.
At least once a week, a blogger will simply drop a link back to their blog in my comments without anything else. (Please don't do this, guys, it really does not make anyone want to follow you.)
Occasionally, I receive comments from other bloggers who are less than happy with my personal views or blogging posts.
Whenever you are online, it is inevitable that you will run into a spam monster, a troll, or a hater. So, how should you deal with it?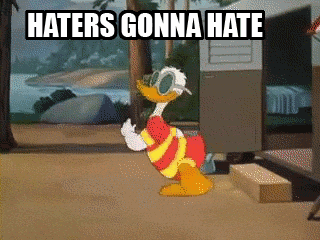 Manually Approve Your Comments Each and Every Time
Ever since I began my blog, I have set up my account so that I had to approve each and every comment that gets posted on my blog. While WordPress does their best to filter out obvious spam, they cannot grab every nasty comment. Therefore, by insuring that I have to view and approve every comment, I become my own filter. Yes, it is extra work, but in my experience, it is completely worth it.
If you are interested in protecting your blog from spammers, trolls, and haters, set up your blog to manually approve your comments:
On the left side menu bar, go all the way down to settings.
Once that page pops up, click on the third option on the top bar called discussion.
Scroll down until you see the section that says "Before a comment appears"
Make sure that both of those options are clicked to on.
So, how about it? Do you manually approve your comments? How have you dealt with spam or hate in the past? Leave a comment below.
Happy Blogging!
©KaylaAnnAuthor
© KaylaAnn and KaylaAnnAuthor.wordpress.com, 2018. Unauthorized use and/or duplication of this material without express and written permission from this site's author and/or owner is strictly prohibited. Excerpts and links may be used, provided that full and clear credit is given to KaylaAnn and KaylaAnnAuthor.wordpress.com with appropriate and specific direction to the original content.