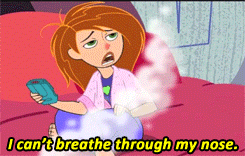 Whelp, guess who's sick again? That's right. This writer. I've been fighting it off and on for weeks and finally I've succumbed. It's the kind of sickness that has broken my writing streak (I was a little ahead my goal so I should be okay to take 2 days off) but I'm still feeling a little bummed out right now.
So, cheer me up?
In addition to falling behind on my writing, I feel like I've fallen behind on the blogs of some of my closest followers! Those who always drop by and leave a comment on my work. Y'all know who you are! So, feel like sharing?
What's your latest, favorite blog post that you have created? I'm gonna do my best to stop by and share some blogging love!