"If it sounds like writing, I rewrite it. Or, if proper usage gets in the way, it may have to go. I can't allow what we learned in English composition to disrupt the sound and the rhythm of the narrative." – Elmore Leonard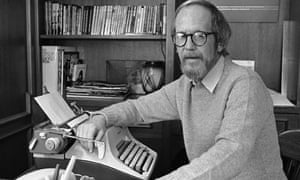 Elmore Leonard, the author of this quote, is an American novelist, short story writer, and screenwriter. His career boomed in the 1950s with his Westerns and continued to grow as he branched out into crime fiction and suspense thrillers. His most well-known pieces are "Get Shorty," "Out of Sight," "Hombre," "3:10 to Yuma," and "Justified." Known and commended by critics for his strong dialogue and interesting use of grammar, Leonard never let the mechanics of writing get in his way.
Although Leonard had his degrees in writing and philosophy, his focus on writing was never restricted by composition 101. However, that does not mean that he simply ignored the rules. He incorporated them throughout his writings and only ignored them when doing so positively influenced his writing.
Has anyone else found it helpful in their own writing to ignore certain grammatical rules?
Happy Writing Everyone!