Let's be honest, my tree got put up two days before Thanksgiving because I just couldn't help myself and I am that person who started listening to Christmas music the day after Halloween. (Before you judge, I'll have you know I listen to Halloween music all October but there is no such thing as Thanksgiving music so I have no choice but to move directly to Christmas music). And now, that December is finally here . . .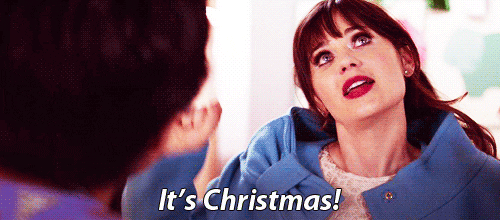 I absolutely ADORE Christmas time, for many reasons!
Firstly, Christmas for me is about Christ's birth. I am blessed that there is a God who loves me enough to send his own son to live on this earth where He experienced his own share of heartache and pain. While Christ may not have actually been born in December, its the celebration itself and not the date that I am excited for.
Secondly, it's another reason to get together with my family. I am not a huge shopper (thankfully because my wallet couldn't support that habit anyway), but I do enjoy buying gifts for others. I love knowing that when they open my gift their eyes will light up. I love knowing that I can make them happy, especially when its the little things that do the trick.
Thirdly, school is out during Christmas break. So while the first two weeks of December are a bit hectic (finishing up that thesis, please send prayers my way!), the last two weeks are bliss. Also, this December I will be graduating with my Master's degree so that's an extra bonus!
Fourthly, the weather (FINALLY) begins to cool down and I get to enjoy Christmas sweaters (my newest one has candy cane sleeves and says "Baby, It's Cold Outside") and boots!
Fifthly, as already hinted at, I LOVE CHRISTMAS MUSIC! I will be posting about my top 12 favorite Christmas songs closer to Christmas.
Sixth, I love Christmas decorations and lights. My house has been decorated for a week now (my dad does an incredible job on the outside lights) and we have a very special carousel-mantel piece that my mom and I set up every year along with our manger scene.
Seventh, people seem genuinely kinder around Christmas. Perhaps its the lights, perhaps its the hot coco, perhaps its family, but whatever the reason, people seem to soften up during December.
Eighth, I've decided to participate in Blogmas this year. Apparently during the month of December bloggers can put their entire focus on Christmas or just a few posts here and there. Since I already had some Christmas posts planned, I've decided to officially do Blogmas! You should join me!***Photo belongs to KaylaAnn, please do not reuse without permission***
What do you love most about December? Will you be participating in Blogmas?